Productivity en Route to E&Y Entrepreneur Dinner
I've just gotten set up at my mobile workstation en route to the Charlotte Westin where Ryan and I, our dates, and our Director of Corp Comm Chuck will be attending the Ernst & Young Entrepreneur of the Year awards dinner for 2008.
Twenty four North Carolina entrepreneurs in a number of categories have been selected as finalists and the final winners will be determined and announced tonight. The five of us are riding in a huge black Lincoln Navigator, with black tie attire to match, cruising toward Charlotte down I-40 through the light haze of the smoke that has blown west from some open fires in Eastern North Carolina today.
The sky looks cloudy from the smoke even though it's likely a perfectly clear day just above. I've sent a number of important emails and actually done a fair bit of work while on the road from my laptop with mobile broadband card this year. The rides in and out of Chicago, San Francisco, and New York City are all great times to finish up a work day while in the downtime inherent to taxiing around.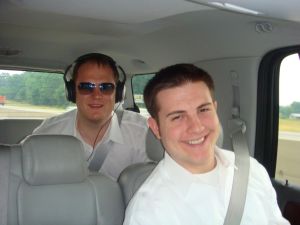 My Bose headphones drown out any noise and I've found that as long I keep my palms pressed tightly against the laptop it's possible to type rather quickly even with the bumps and breaks of the road. In May I sent my mom a Mother's Day greeting email with photo attached as I cruised in a cab down Lakeshore drive just north of downtown Chicago.
I was returning from a Chicago Cubs game and heading to Midway Airport on my way to Las Vegas for a conference. My foray with high tech was of course complimented by a long phone call to mom after I cleared the security line at the airport.
But when it comes to web business, emails and online communication tools like blogs are perfect for the traveling business person. With the power of the Internet and interactions and transactions happening literally everywhere, it's just as easy to check in and be productive from anywhere. And in this case, a great distraction before the energy of the evening to come.