Testing the Market for Personalized Niche Trivia
Just over one year ago a good friend of mine Erik brought an idea to me about building and marketing niche trivia games over the web. The original idea was sized down to a local market prototype that would allow us to judge the demand for this type of product within a market we all knew well.
The thought was that if we could make the game a success within a market that we knew well and in which we could directly build relationships with retailers and affiliates/resellers that we would have a model that we could take to other markets by way of representatives in each that had connections similar to ours in our test market.
Our local test market became UNC students and alums and the first offering became a physical boxed game with 500 questions in five categories called the Chapel Hill Trivia Game. The categories are: Student Life, Sports, History, Landmarks, and Famous People. The game became available for sale online and in many local retailers in the Chapel Hill North Carolina area in December of 2007, a little late but still in time for the holiday gift season.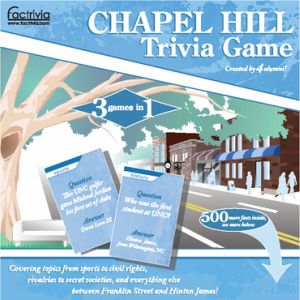 We're now fourteen months from our first conversation on the idea and six months from our first print run of the Chapel Hill Trivia Game. The company name we created to hold each of our niche trivia projects was Factrivia.
The Factrivia project has been interesting to me for a few reasons:
A really smart guy that I respect came up with the original idea (which has been adapted some along the way).
The long term vision involved collecting and organizing information within a social model website.
The long term vision involved a print-on-demand process that would allow our physical printing costs to scale with demand for the product and would allow us to eliminate the need for capital and risk that comes with holding inventory.
The opportunity matched a number of already successful business models that were addressing the long tails of other traditional markets.
Preation had software that would make building a content-managed website and e-commerce system to support our test market prototype quick and cost effective.
Our test market prototype plan would involve getting to know the consumer game market and learning about retail distribution models which were completely out of my realm of experience.
We had a good balance among the four founders between those with time, connections, and business and technology experience.
After spending just over a year learning in this market and testing the demand for our local market prototype the Chapel Hill Trivia Game I feel like I've learned a lot. I'll outline a few of the things we've done that have worked and others that haven't from both a tactical and strategic standpoint below.
Things that have worked:
Our website and e-commerce system (Preation) have performed perfectly
Our email and document management system (GMail and Google Docs) has worked really well
Our conference call line (FreeConference.com) is perfect for what we need
Semi-weekly status meetings with emailed to-do lists for each person following the meetings
Our printing and game production company (Delano) did a nice job on the games
Coordinating communications and priorities among team members in different locations
Manually researching, documenting sources for, and editing 500 trivia questions on a niche topic
Breaking our go-to-market strategy into smaller chunks that would allow us to prove demand for what we're doing at each step along the way and thus minimize risk
Funding our demand evaluation process with founder and friend-and-family funds
Negotiating great placements of the game in retail establishments that sell to our market
Selling to customers through Chapel Hill retailers and bars and restaurants
Selling through organizational affiliates who have active members
Using local media coverage to drive website sales
Using our status as UNC alums to tell a good story about the creation of the game
Things that haven't worked (hopefully just yet):
Highly targeted advertising to UNC alums and students through web flyers on Facebook
Web banner advertising on DailyTarHeel.com
Non-holiday-motivated selling directly to consumers from our website
Affiliate selling through alumni organizations and groups around the country
Factrivia has been a fun project and I've already learned a lot. We've sold nearly half of our test inventory so far and we've got a lot of hard work ahead of us.
Our Tuesday and Thursday meetings are now all about revising and refining our current sales and distribution strategies and working to find channels that move the product quickly. So far so good.